Rhinoplasty - Nose correction surgery
Rhinoplasty is a surgery that is performed to improve your nasal shape and function. There are two main principles that have to be adhered in rhinoplasty surgery. First to achieve a good functional nose so you can breathe well and secondly cosmetically appealing result. Patient's wishes are addressed right from the outset so to produce an aesthetically pleasing nose within the constraints of the existing nasal anatomy.
You have to tell your surgeon as to what aspect / part of your nose that you want changed and discuss details of surgery and recovery.
For example you may want to
Straighten a crooked nose
Reduce a nasal hump
Make you nose smaller or bigger
Improve height and profile to upper lip
Open or narrow nasal passages
Make the nasal tip smaller/ fine
The two main techniques of rhinoplasty are open rhinoplasty and closed endo-nasal rhinoplasty. You should discuss with the surgeon which may suit your nose as there are advantages and disadvantages of each technique. You should also discuss postoperative care, complications, and unexpected outcomes at your consultation. Pre operative and post operative photography will be essential.
---
Hump reduction
Reduction of nasal hump by removal of bone and cartilage shaded red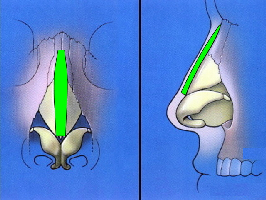 Build nasal dorsal support and profile by addition of cartilage or graft shaded green
---
Narrowing nasal tip by excision of cartilage marked red and reconstruction with sutures
Improving nasal tip projection and support by addition of cartilage or graft in green
---
Reducing the size of the nasal vestibule (base) by removal of soft tissue - broad nose to narrower nose. Scar heals well and is well hidden
---
Narrowing of the nasal tip
Murali Mahadevan
Specialist ENT Surgeon
For all enquiries and appointments call (09) 925 4050
Gillies Hospital & Clinic
160 Gillies Avenue




Epsom

,

Auckland

1005



Facsimile: (09) 925 4051
Only general information is provided on this web site and is not intended as advice or a consultation. Please read our full disclaimer.